The Official Hotel of Laconia Motorcycle Week
Call today for 2019! 96th Anniversary Laconia Motorcycle Week! 888.55.NASWA
Now in its 96th year, The NASWA Resort is the perfect home base to take part in all of the action of Laconia Motorcycle Week – which is why it's Laconia Motorcycle Week's Official Hotel! Our central location makes it easy to ride or walk to the Weirs and not miss a single beat or run.
All week long, we've got amazing events at The NASWA to add to your Laconia Motorcycle Week experience! There is no cover charge for the live music on the beach at the NazBar & Grill and Late Night at the Blue Bistro. And have you seen our private beach? Staying with us is the best way to get the most out of your Motorcycle Week experience. Our events calendar is constantly being updated as we plan more Motorcycle Week fun, so be sure to check it out.
To book your stay for Laconia Motorcycle Week, please give us a call.
This week fills up fast so we only take reservations by phone. Call 888.55.NASWA Today!
Peter Makris Memorial Run
The 13th Annual Peter Makris Memorial Run was a huge success this year! Thank you to everyone who participated, donated and made this run a success! We made a donation of over $435,000 to the Laconia Fire Department Fire Rescue Team, Veteran's Count and the area CERT Emergency Response Team! Your generosity and support are very much appreciated! Check out some of the action on our Facebook page!

Stay connected with what's happening with Laconia Motorcycle Week with the Rally News.
Celebrate the 96th Anniversary
Annual Cake Cutting Celebration June 12th at 5:00 pm
Miss Laconia NazKini Contest*
June 13th at 3 pm. Interested in being a contestant to win the $1200 cash prize? Apply Now!
*Must be 18 or older.
AMENITIES
With outstanding amenities, a central Laconia location, and the perfect room for every guest, The NASWA Resort is the perfect place for your summer vacation. We are located directly on Lake Winnipesaukee, boast the largest private sandy beach on the lake, and offer free boat slips for our guests.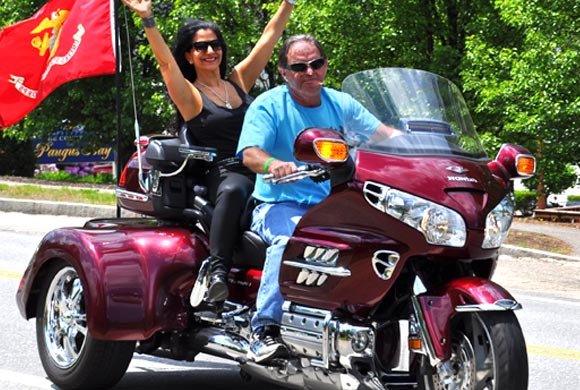 UPCOMING EVENTS
We are always adding to our events calendar to make every stay special. Join us for fun theme events, like our Mardi Gras Weekend, our legendary birthday celebration, Parrothead Weekend, and Reggae Fest. There is an event for guests of all ages to enjoy at The NASWA Resort.
BLUE BISTRO
The Blue Bistro offers Brilliantly Crafted Cuisine to our guests and visitors of the Lakes Region. Join us for delicious dining and delightful views of Lake Winnipesaukee.
BOOK YOUR STAY
There's plenty to do all summer long, and plenty of memories to take home with you. Start making them now – your summer stay is a click away. Book your summer stay on our website now for the best price and experience.